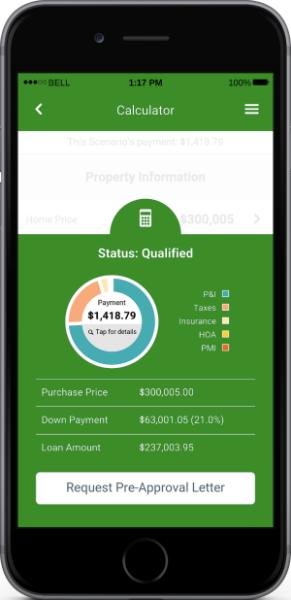 Custom Dti Calculator
Pre-Approve Me's loan officer software has a built-in Custom DTI Calculator that empowers your Buyers and Realtors to shop with confidence. After your initial meeting, you can create the Buyer's profile and select the different loan programs they are eligible for. You control all the parameters (front and back end ratios, interest rates, etc.) inside each loan program.
The DTI Calculator will display an approval status:
Qualified: Your Buyer can afford the proposed home and they have the ability to email an instant pre-approval letter if you have unlocked that function for them.
Call Your Loan Officer: Further investigation is needed to determine if the Buyer is qualified as they fall just outside the acceptable thresholds you set up. The assumption here is they could move to Qualified with a little bit of help from you. The instant pre-approval letter button is unavailable under this status.
From here your Buyers can shop with ease knowing they can input all the relevant housing info (price, down payment, HOA dues, taxes, etc.) and know in a matter of seconds whether or not they are qualified to buy that house!